Bali's beaches and rugged cliffs greet your weary eyes just before landing at the airport in its capital city of Denpasar. Clearing immigration and customs is fairly efficient, in spite of the enormous number of flights constantly leaving and arriving at this fairly modern island airport. These details forewarn of exactly what you should understand foremost about Bali, and that is the simple fact that over the last few decades it has been developed into a massively successful tourist destination, with all the goods and evils entailed. As one of the world's most popular island destinations, the local tourism industry will do its best to part you from your money as soon as you step off your plane, usually with a warm smile and friendly conversation in English. Keep this in mind, and enjoy Bali's natural attractions and local flavors with a smile in place and a polite no to ward off touts and aggressive salespeople.
It's usually a good idea to arrange transport via your hotel from the airport and hire a driver for the course of your stay if you plan on moving around the island. In the popular southwestern coast of the island (Kuta area) there are usually many taxis roaming the streets, albeit the majority will not use a meter so good haggling skills are required. A good alternative for most locations is the use of the Grab or GoJek apps to find transport around Kuta and Denpasar areas, although they will not pick up from some areas that are controlled by local taxi mafia so be careful and move a few blocks away if you're too close to a taxi stand. If you're comfortable with driving in Southeast Asian islands, renting a motorcycle or car is a great alternative to explore the various areas of the island.
---
Popular Balinese Dishes
Babi Guling
Unlike the majority of Indonesia, the residents of Bali enjoy a variety of non-halaal foods. Their most celebrate dish is known as Babi Guling, which is a whole roasted pig prepared in a variety of ways and served with rice. Because of the heat and time it takes for roasting, you'll see the majority of these places open at night, although a few decent ones can be found daytime.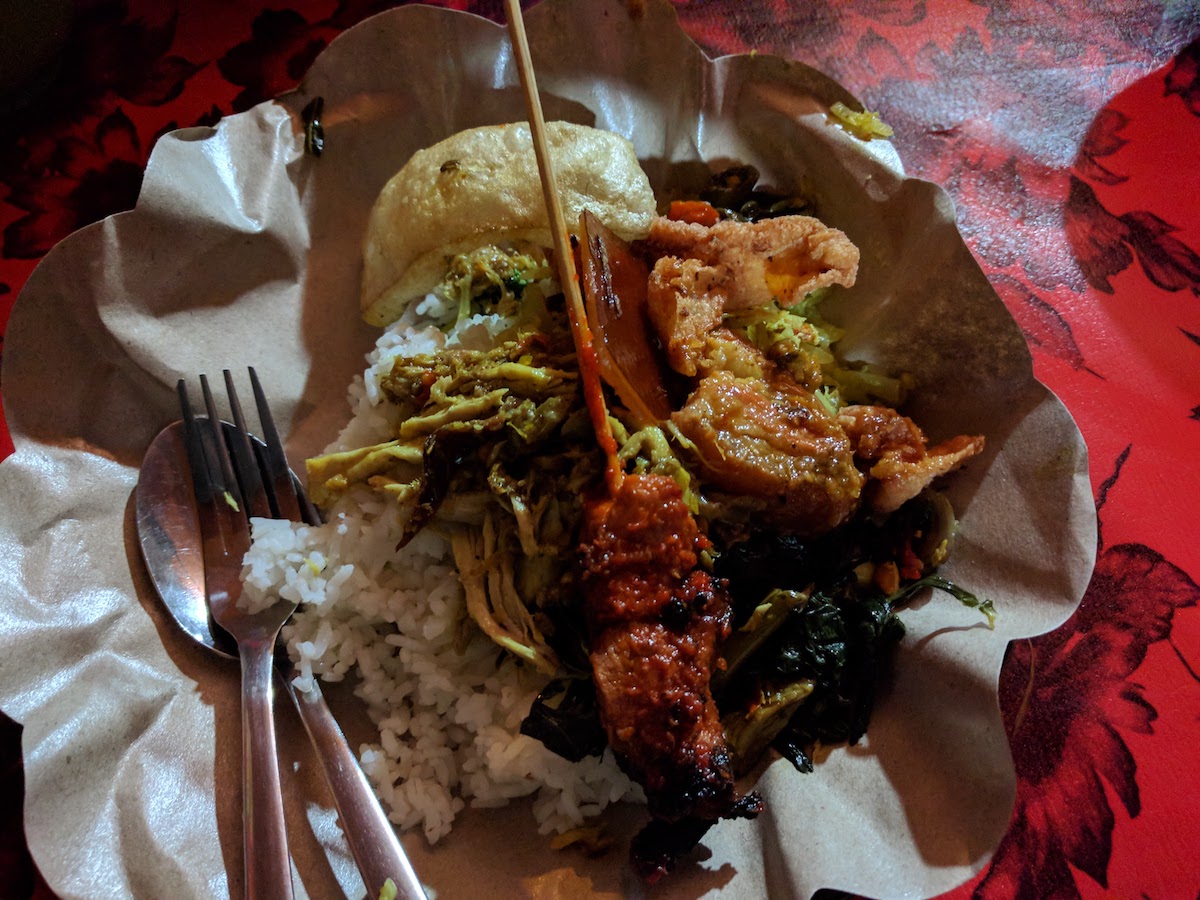 Nasi Campur
You will see most restaurants offering their version of nasi campur, which is an assortment of small dishes served with rice. The set usually includes a soup, a grilled skewer of minced meat, spicy sambal, some vegetables and another protein or curry. They are a great and cheap way to try different the different flavors popular in Indonesia.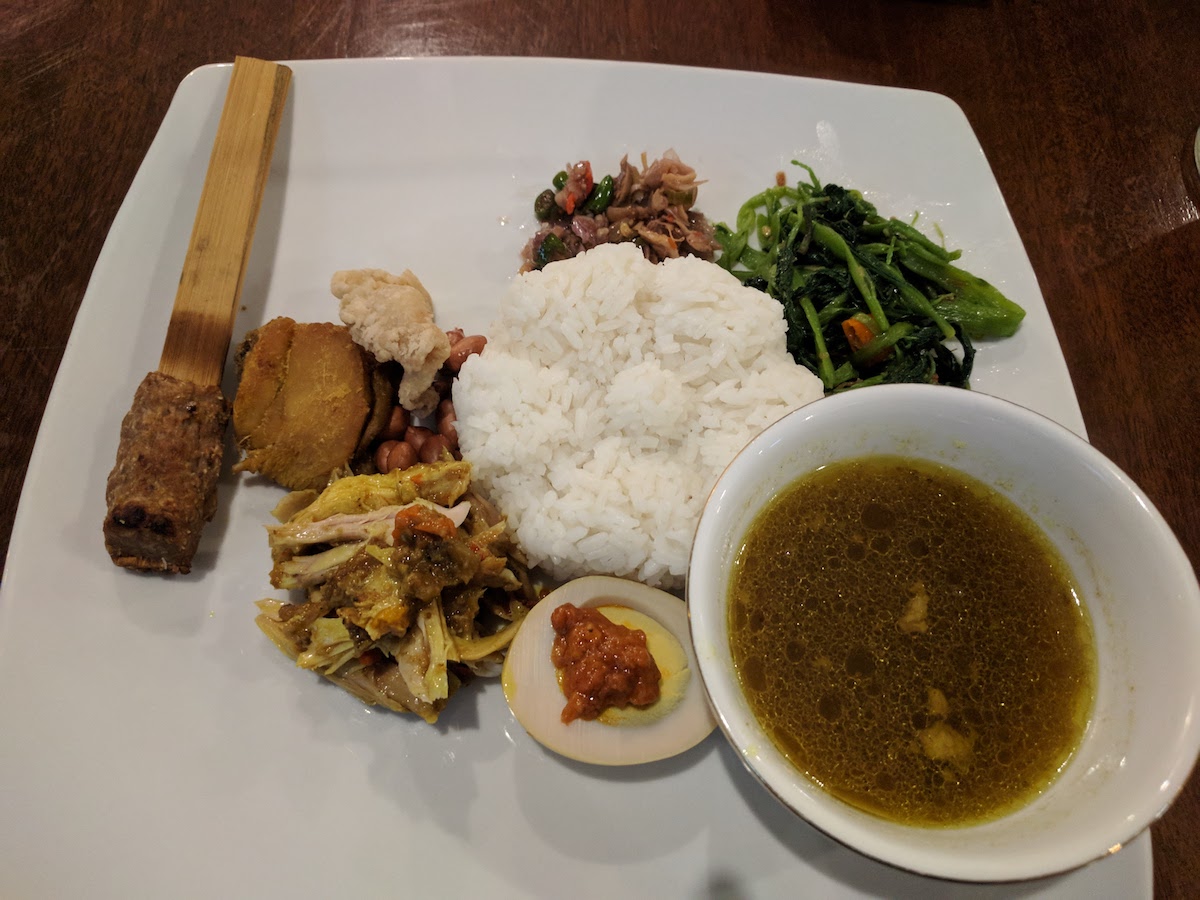 ---
Southwest Bali (Kuta, Seminyak, Korobokan)
When many people think of Bali, they picture the gorgeous resorts and beachside often restaurants depicted in tourist photos of the island destination. Kuta is the beach town area that started it all, and remains ground zero for international tourists. This area also has a very large number of primarily Australian expats, so you're sure to find a great variety of dining and drinking options no matter what your country of origin. Just north of the Kuta section of the coast is the area called Seminyak, which is the more upscale and slightly quieter version of Kuta. If you want beaches, restaurants and more upscale nightlife, then Seminyak is where you're most likely want to stay. Kuta caters more towards the backpacker and college crowds, so expect rowdier (but cheaper) bars and restaurants in this area.
What to do:
Go to the W Hotel where you can order drinks by the pool and enjoy the facilities.

Watch sunset on the beach, but avoid places like La Plancha which are swarmed by people so they make you order a drink and entree during sunset hours.

Paris Cat Jazz Club has live music most nights of the week, focusing on Jazz, chill place with a main lounge floor and a rooftop area with a nice breeze at night.

40 Thieves is Bali's only true cocktail bar sporting a speakeasy vibe above a Japanese restaurant. Their talented bartenders will help you choose from their creative proper cocktail.

Bar di Bali is a chill hip-hop cocktail bar at the north end of Seminyak with staff that occasionally rap or dance with the clients.

La Favela night club is consistently one of the most popular, but beware high prices and rough staff.

Motel Mexicola can be amusing to watch drunk tourists and their vacation shenanigans.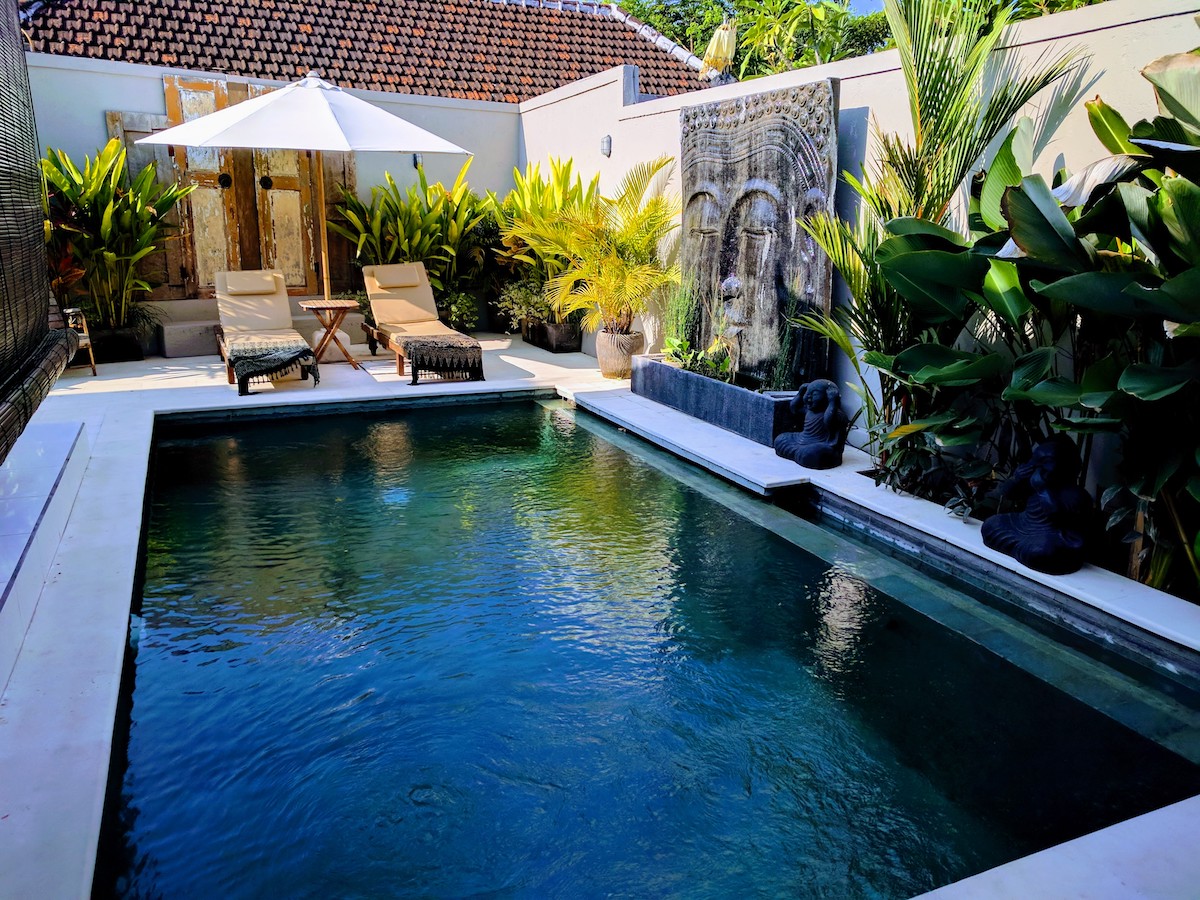 Where to eat:
Babi Guling Bu Dayu
Babi Guling Bu Dayu serves up a great assortment of pork in different forms. Their dishes tend to be on the spicier side, and larger in quantity than other versions I tried. It's extremely popular, so food is always fresh and served warm, albeit with some delay at times due to takeout orders. You can and should order their babi guling combination with an order of the soup to fully enjoy the experience.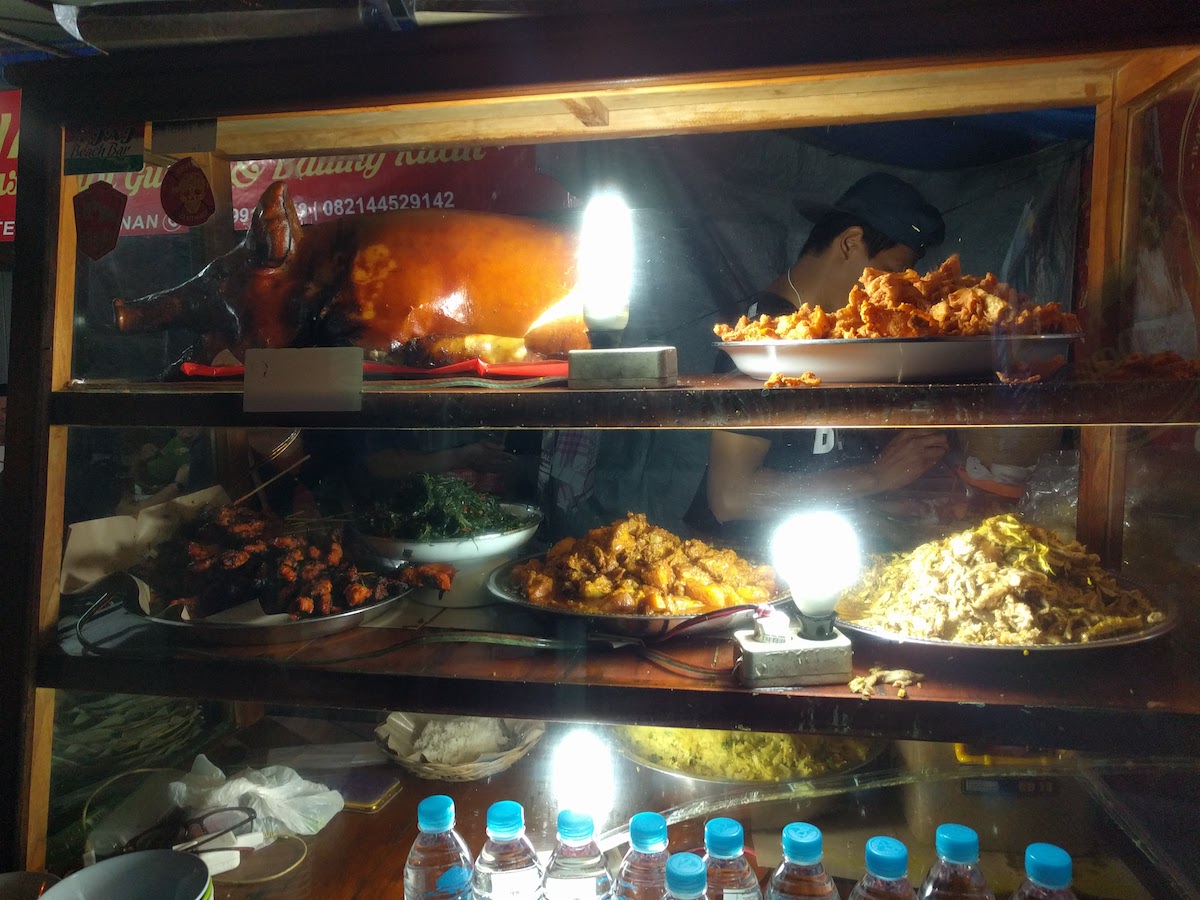 Warung Babi Guling Pak Malen
If you're staying around the Seminyak area and want some Babi Guling for breakfast, Warung Babi Gulin Pak Malen is an excellent choice, and my second favorite among the many I visited. They are open and busy during breakfast and lunch, with take-out boxes also a popular option. If you're nearby, buy one and snack on it later.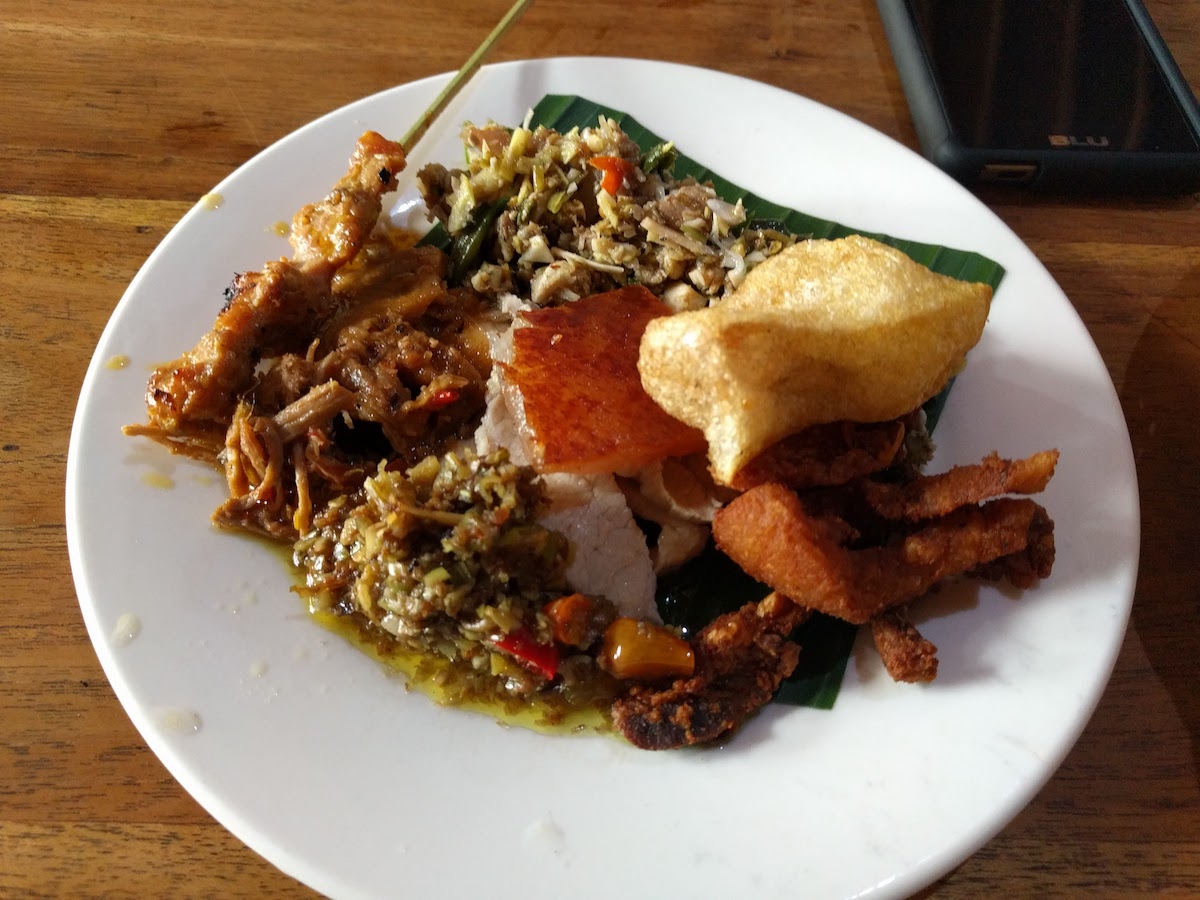 Made's Warung
Large and touristy but still satisfying, they server up a wide-range of local and international foods, with live music and performances(check their schedule by calling first). Their Nasi Campur was surprisingly good and their wait staff quite attentive.
Revolver Piccolo
Excellent little coffee shop
Crumb&Coaster
Opens early, great coffee and good breakfast options with cute decor and amazing staff.
Sisterfields
A popular choice for their Australian vibe and tasty fare. Can't go wrong with the burger and fries here, as well as the coffee.
Warung Souvlaki
If you get a craving for a souvlaki wrap, this one was actually pretty good.
---
Denpasar
Denpasar is the capital of Bali, and the Denpasar city area houses the majority of the island's government buildings and residences. This section of Bali houses a number of leafy residential areas and the island's more affluent local population. It's the part of Bali you'll want to stay in for government and business purposes, and has many nice restaurants and hip hangouts catering more towards locals.
Where to eat:
Warung Léko
Leko is a good choice if you're wandering around central Denpasar and want to cool off with air-conditioning while eating ribs, rice and spicy sambals. It's a local chain but a reliable one that is popular with locals who also order wild rice and stir-fried vegetables to go with their meats.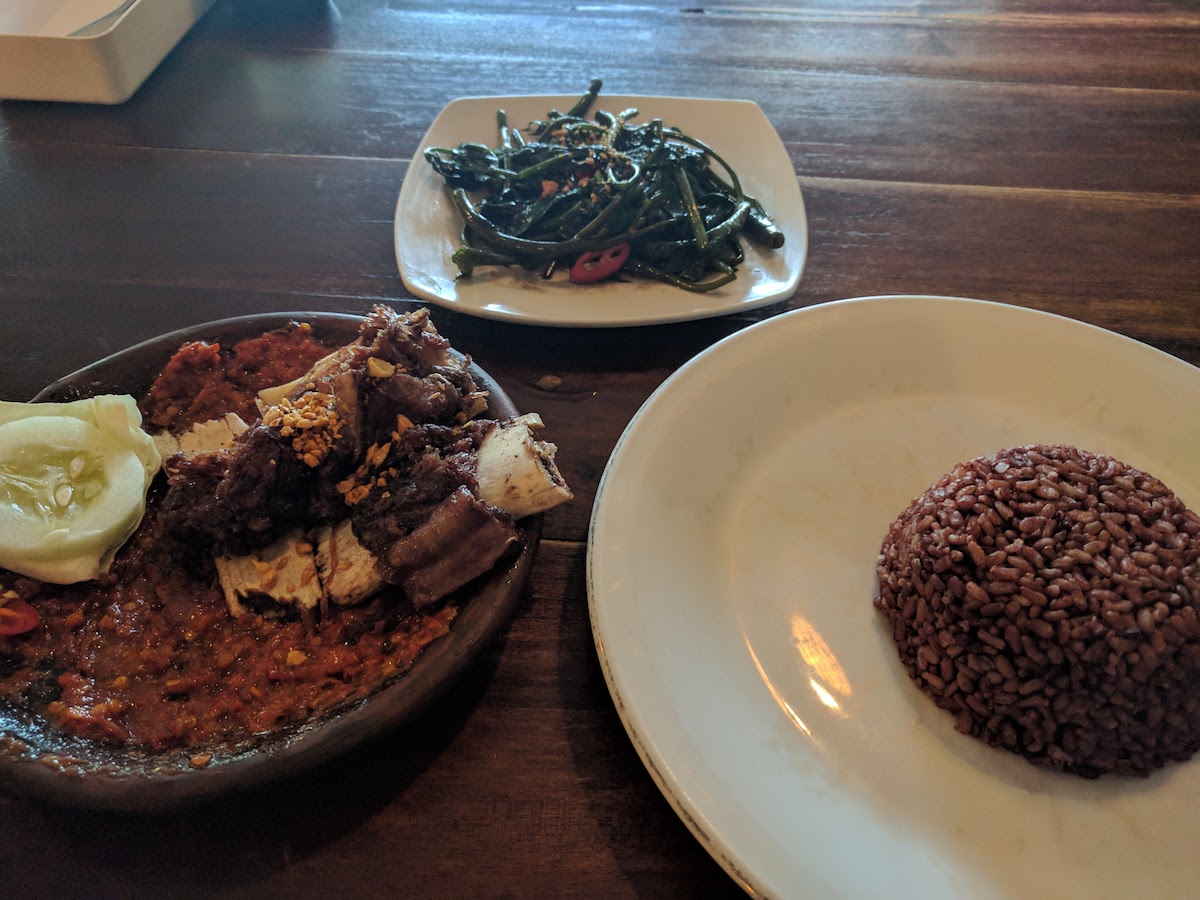 Warung Be Pasih
If you need to go to the Thai consulate in Denpasar, this place is nearby and a good option for lunch. They're most popular dishes seemed to be fish, sate and grilled chicken with rice and sambal.
---
Sanur
If you want a quiet beach-town experience with modern tourist conveniences, then Sanur is the part of Bali that you'll want to stay in. Sanur has a very long stretch of beach and boardwalk lined with hotels, restaurants and of course shops. Sanur is more family-oriented than Kuta/Seminyak, and much quieter at night with limited night-life aside from some beachside bars and restaurants. Sanur is also where most of the boat ferries depart from Bali to the Lombok/Gili and Lemgongan/Ceningan/Penida island groups.
What to do:
Sanur Beach
Multiple tour and water activity options offered along the boardwalk, with even more restaurants, shops and friendly touts. The beaches have some nice sandy parts to relax and soak up some sun as well as some rocky areas if you'd like to join the fisherman for some action.
Where to eat:
Warung Sanur Segar
Top 10 Trip Advisor Indo-mex beach shack worth a stop if you want a little California vibe mixed with Indonesian flavors. The owner/chef/waitress does everything herself, but she also uses excellent ingredients and prepares tasty and very inexpensive meals that are worth dropping by if you want a burrito or quesadilla.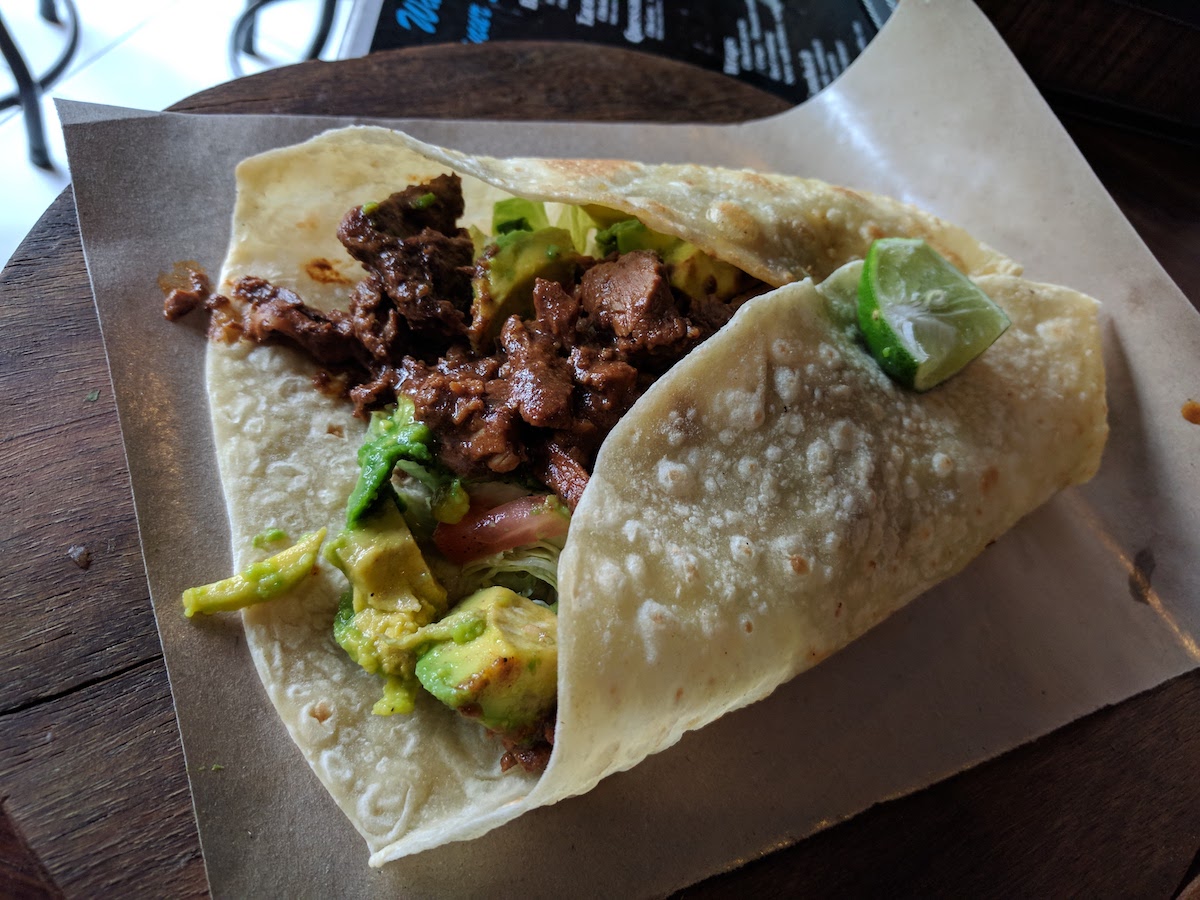 Rasa Senang Restaurant
Good assortment of Indonesian dishes with an outside terrace to watch people strolling by on a nice night.
---
Nusa Lembongan and Nusa Ceningan
A one hour ferry ride south of Bali will bring you to Nusa Lembonga island, part of the Nusa Penida island group. If you're looking for a more natural island experience with tourist comforts, than Lembongan may be more your style. This island has just started to develop in the last few years, so accommodations and infrastructure are still fairly basic. This also means much of island in undeveloped and offers more opportunity to get off the beaten path and enjoy the sights without being surrounded by luxury resorts. The best way to get around is to rent a motorcycle, as then you can also visit the adjacent island of Nusa Ceningan which is connected to Lembongan via a metal bridge. Take a ferry from Sanur and explore for a day trip. Book your tickets ahead of time and they will pick you up and drop you off from your hotel. You can certainly stay overnight but there isn't much happening on the island after dark.
https://foursquare.com/v/marlin-lembongan-cruiser/4fff98dce4b0b5d60d2bbcc4
What to see:
Yellow Bridge to Cenida
This links Lembongan to Cenida, and yes, it's two way traffic!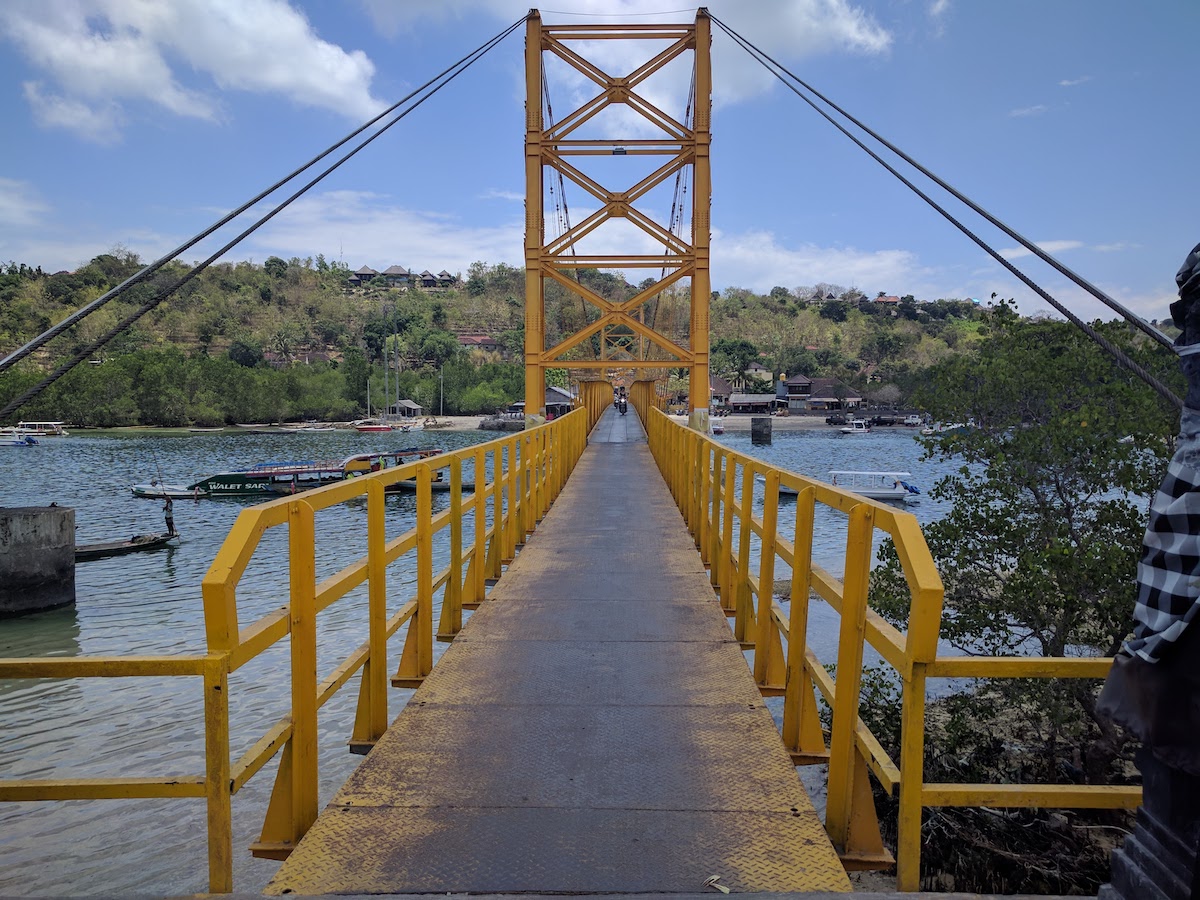 Devil's Tear(Lembongan)
Experience the fury of the ocean as it pounds the cliffs on the eastern coast of Lembongan.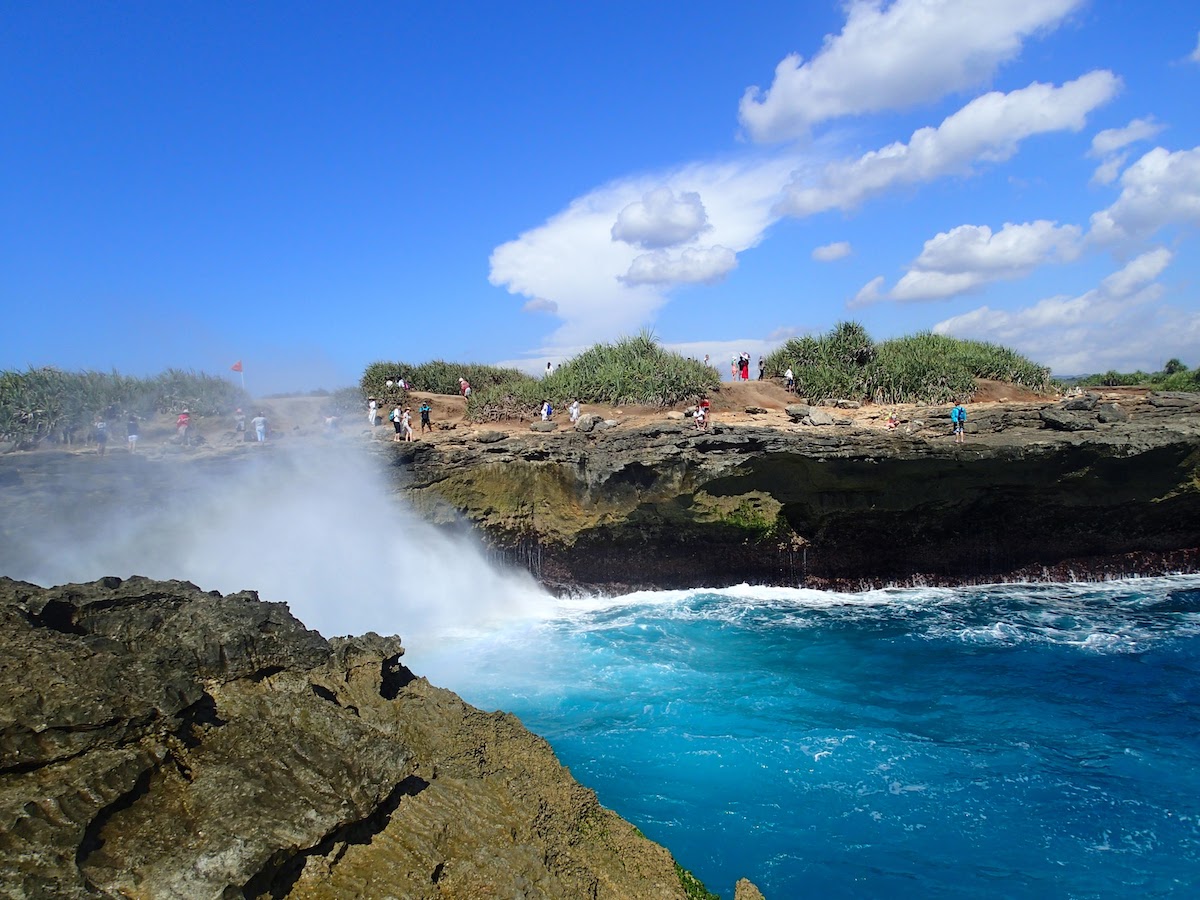 Dream Beach(Lembongan)
Just around a bend of coast near Devil's Tear, Dream Beach looks like a small slice of island paradise.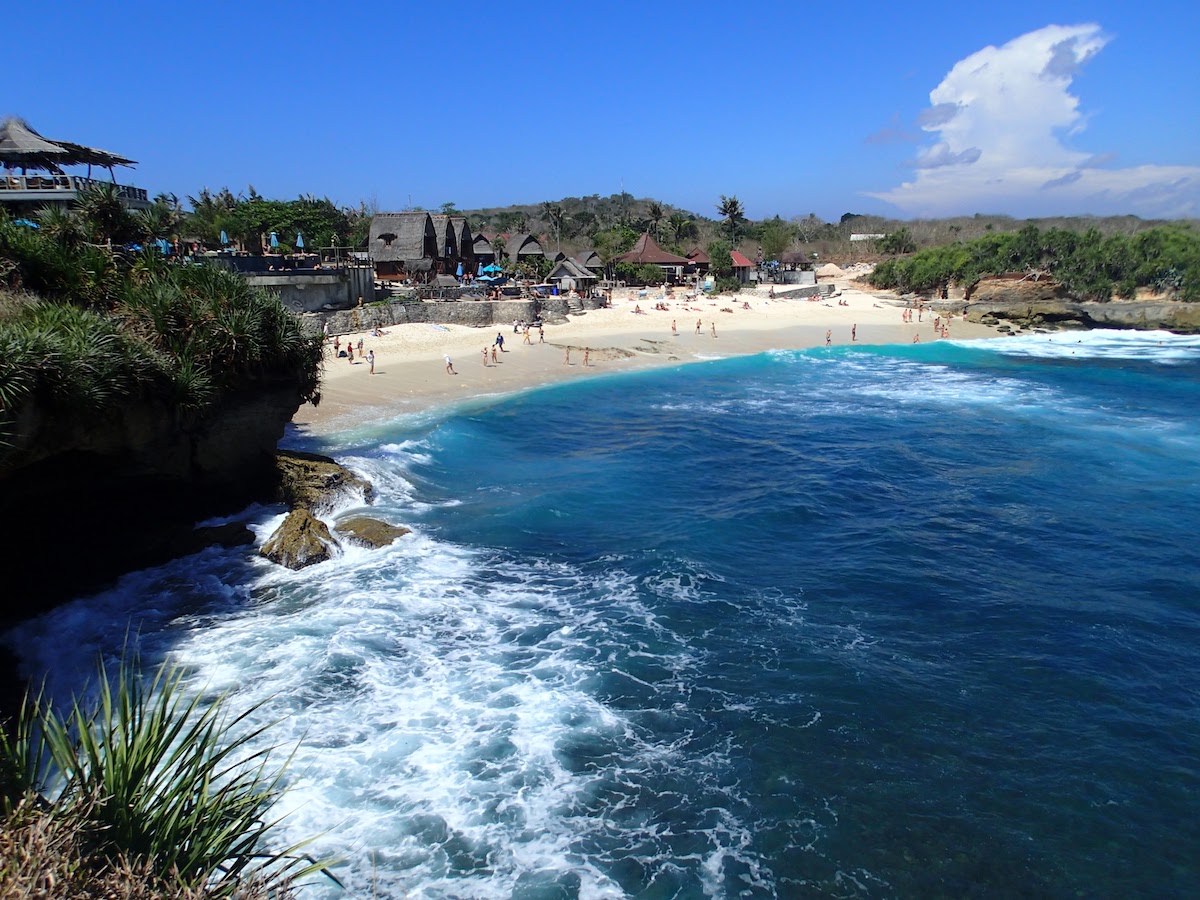 Blue Lagoon(Cenida)
Well worth a visit to Cenida just for this. Hike around to see deep blue pools of water churned into frothing waves crashing onto limestone cliffs.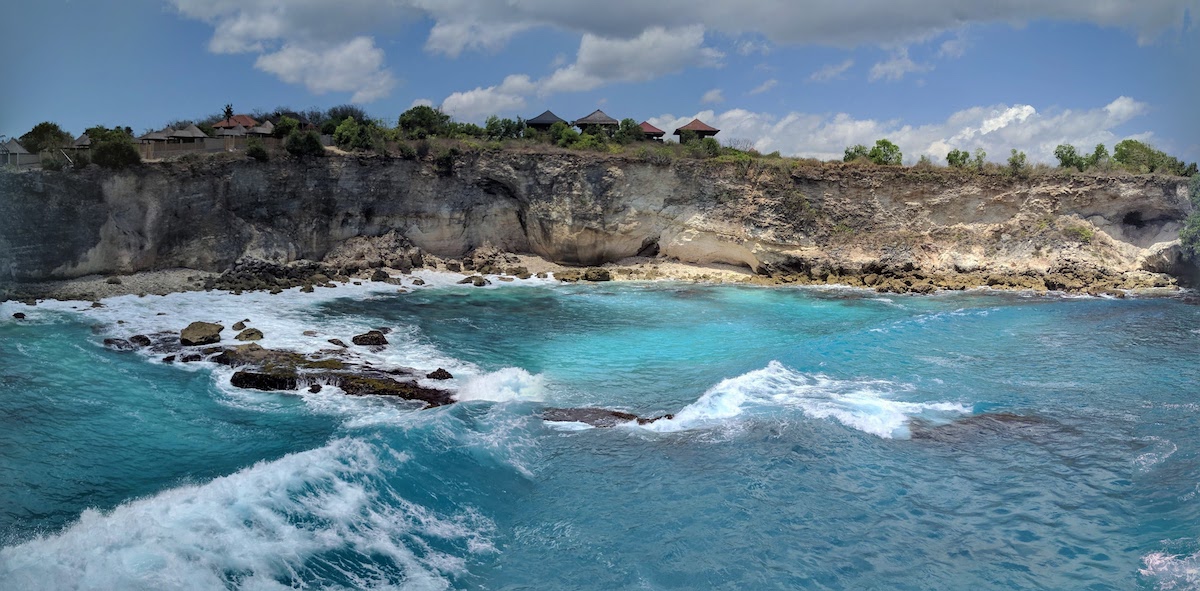 Where to eat:
Mahana Point(Cenida)
Dive off a cliff next to a small restaurant at the end of the island, then have a beer and watch surfers ride the rollers onto shore. Their special fried noodles with chicken was surprisingly good compared to many other places if you're hungry, but don't expect much beyond the staple Indonesian dishes of fried rice, noodles or chicken.
https://foursquare.com/v/mahana-jumping-point/52ee167c11d2a1340c37d34e
---
North/Central Bali (Ubud)
Ubud is definitely the cultural center and is a must-visit for anyone looking to experience Bali beyond it's resort life. There are hundreds of small and large temples scattered among the jungle hills of Bali's interior and Ubud is usually where most tourist's base their visit. There are no taxis or Grabs once you leave the main southern Bali area, so it's best to arrange local transport with a good driver that knows the area. Ubud's geography encourages you to get lost amidst temple destinations small and large, occasionally finding a perfect moment away from the tourist crowds.
What to do:
Pura Gunung Kawi
One of my favorites if you're up for a little physical exertion, as this temple is set in a hilly area which also had many less tourists than other ones I visited. The walk is rewarded with views of massive cliff carvings and temple grounds among rice terraces.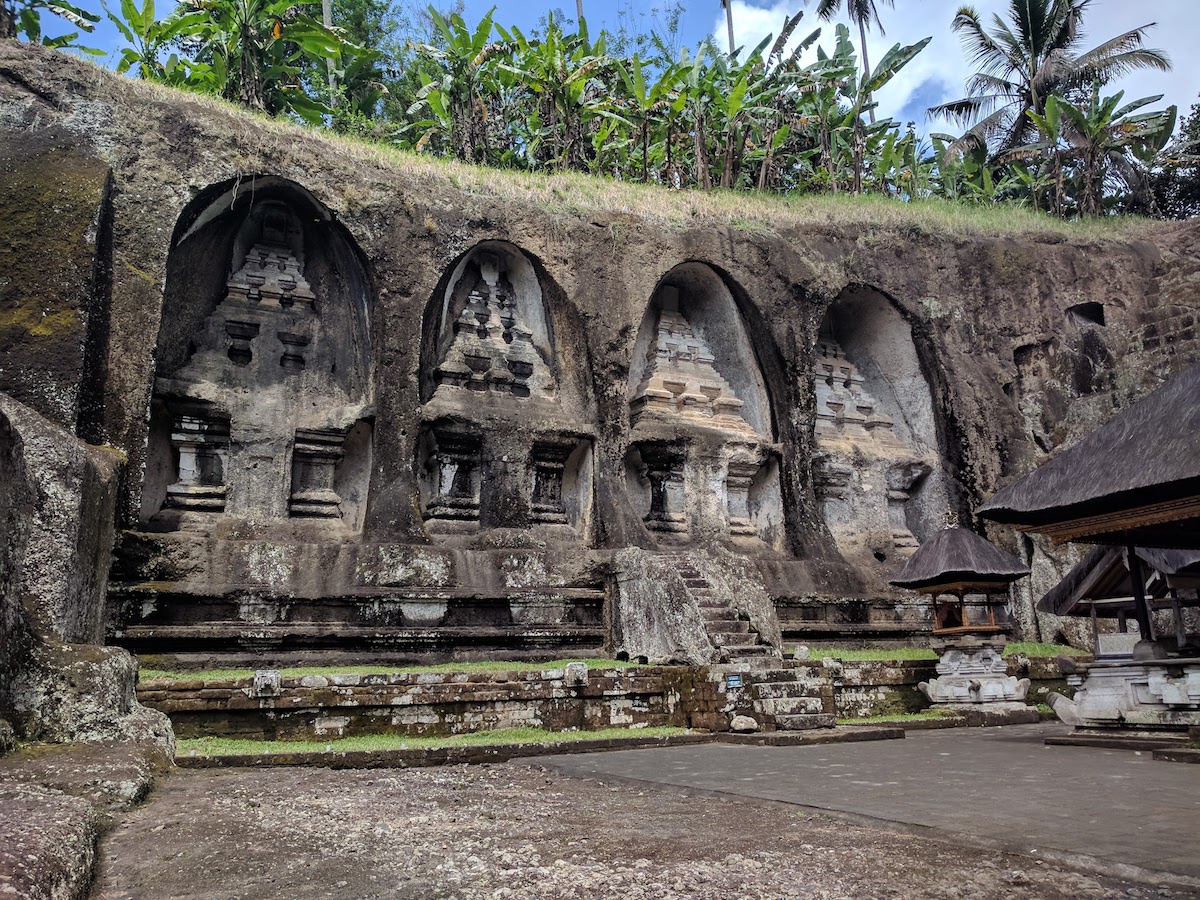 Tanah Lot
Sure it's popular and will have loads of people, but it's also fairly extensive. Walk along the clifftop boardwalk, buy a cold beer from a vendor and enjoy the sunset on the beach.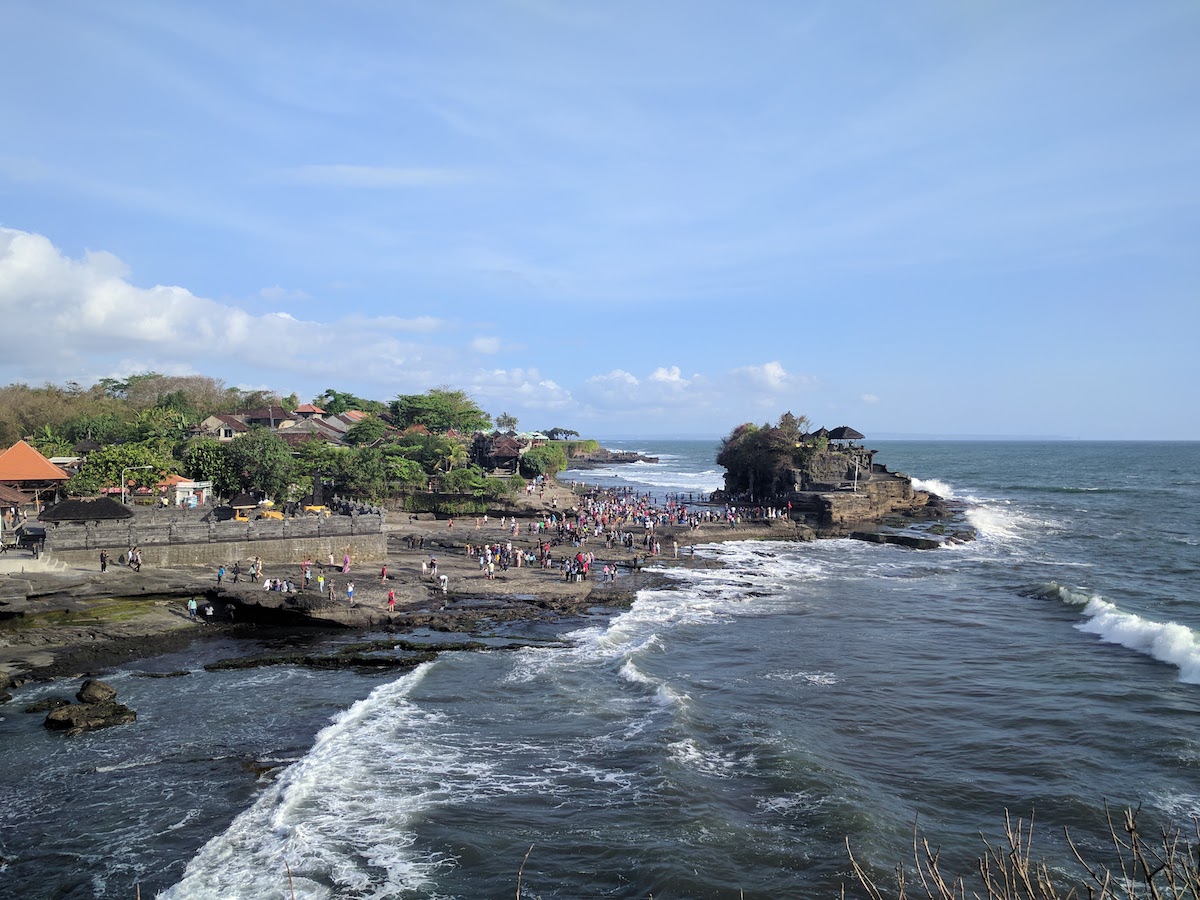 Goa Gajah
Interesting old temple with some pushy monks, but worth it once you escape into the temple grounds and their ancient trees.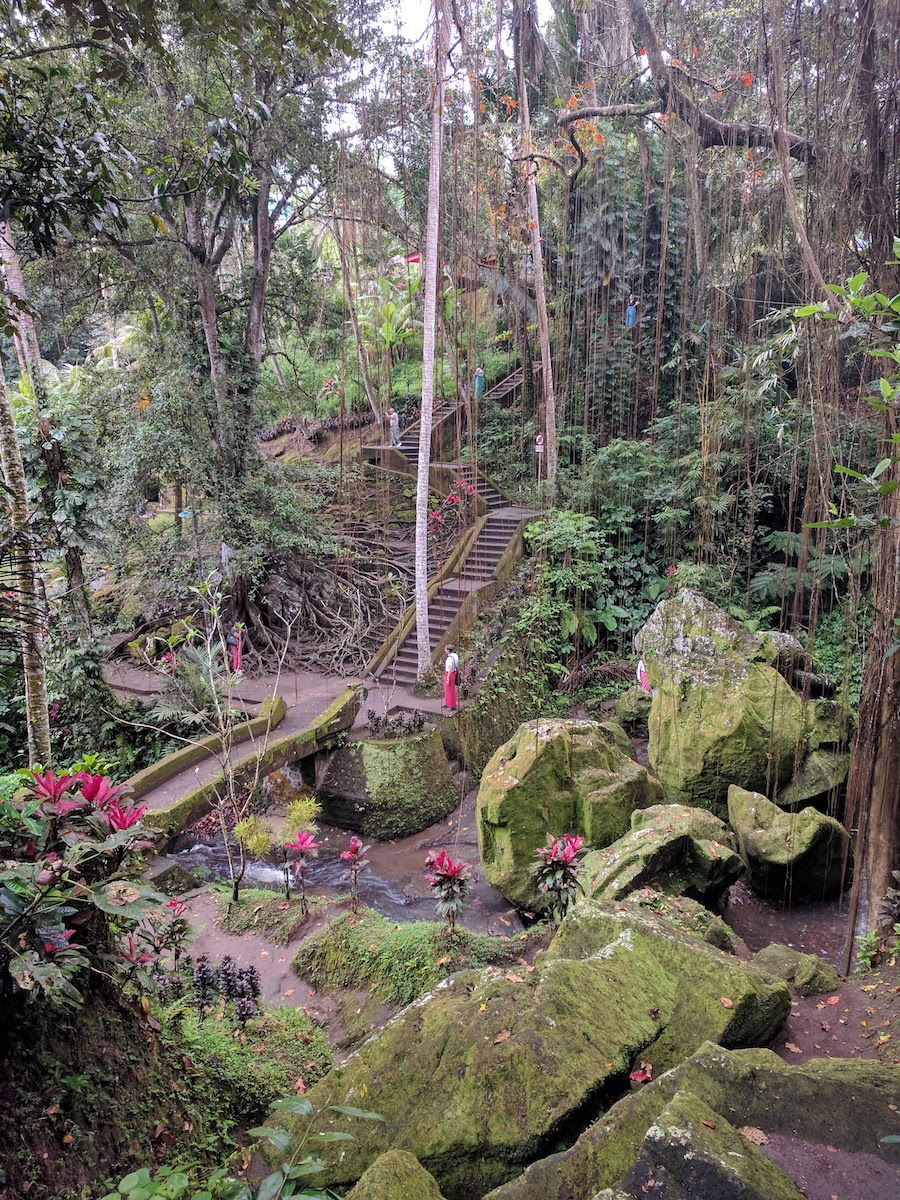 Sacred Monkey Forest Sanctuary
Interesting zoo/attraction created to look like ancient temple grounds dedicated to monkeys. The monkeys are generally cute and well-behaved and it makes for some great pictures and nice walks through the jungle setting.
https://foursquare.com/v/sacred-monkey-forest-sanctuary/4c7364260e8cbfb7857509db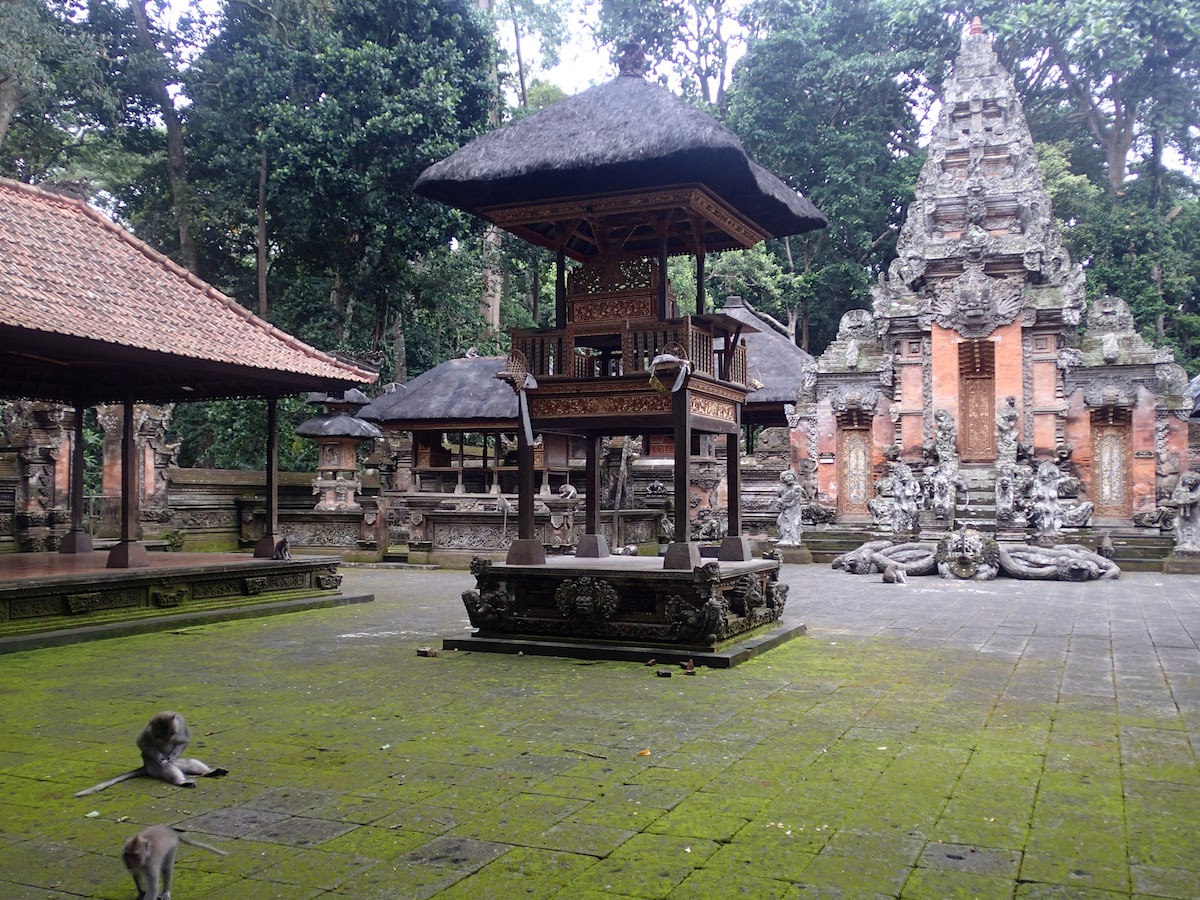 Sahadewa Barong Dance
Their night show was very entertaining and reasonably priced, a must-do since there isn't much else at night in Ubud.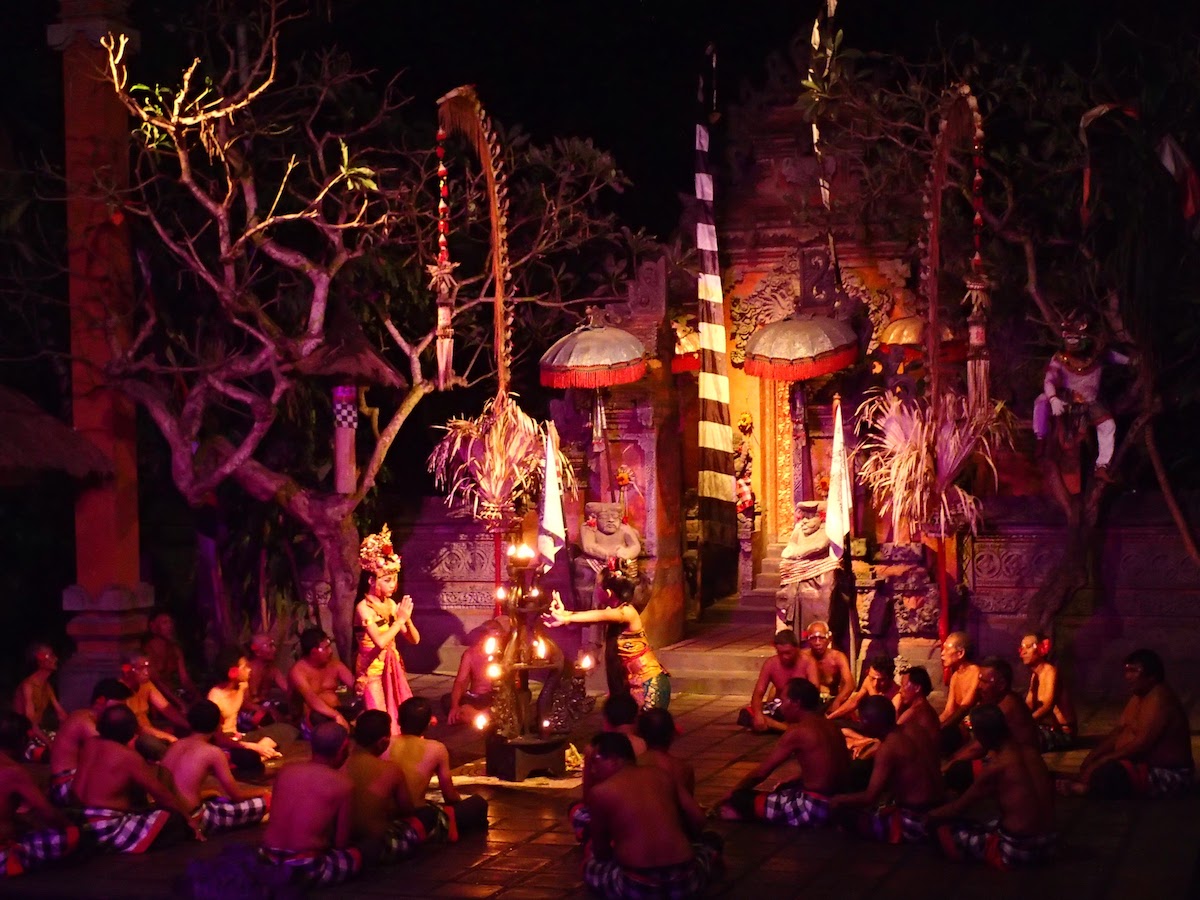 Pura Taman Kemuda Saraswati
Since you're already in downtown Ubud, walk through it's courtyard and check out the impressive lotus ponds.
https://foursquare.com/v/pura-taman-kemuda-saraswati/4fcc950be4b0dc2779122215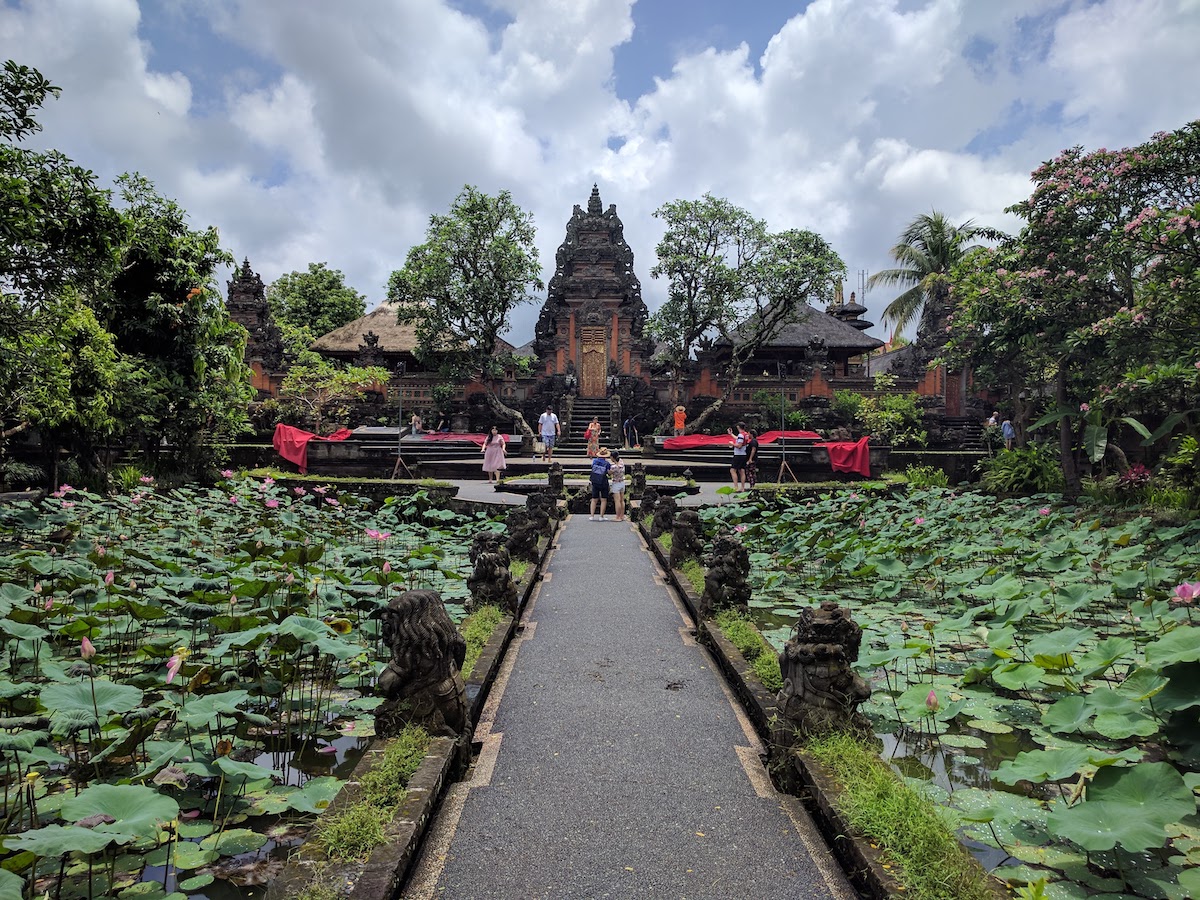 Tegallalang Rice Terrace
A top tourist stop, it's nice if there aren't too many tourists at the time you visit and if it's a sunny day. Otherwise you can just take a picture from the top without climbing down and up the terrace walkways. Pura Gunung Kawi has some nice smaller rice terraces without the crowds.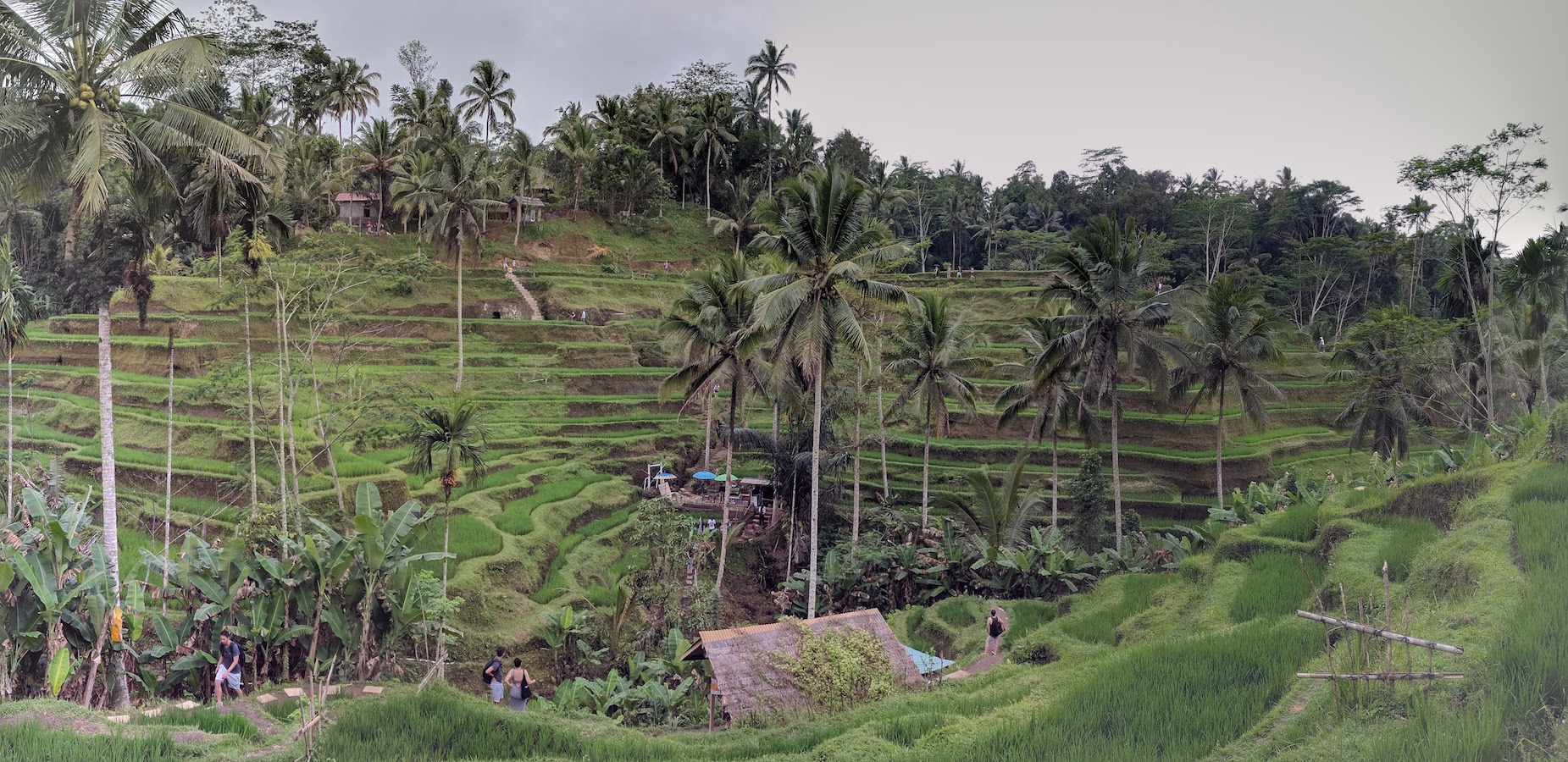 Luwak Coffee Plantations
Coffee plantations/stores are another popular tourist trap in the area, but worth going to as a break from temples. They will give you samples of different types of coffee for free, and you can then order another coffee to savor while enjoying the view or buy items from their overpriced shop.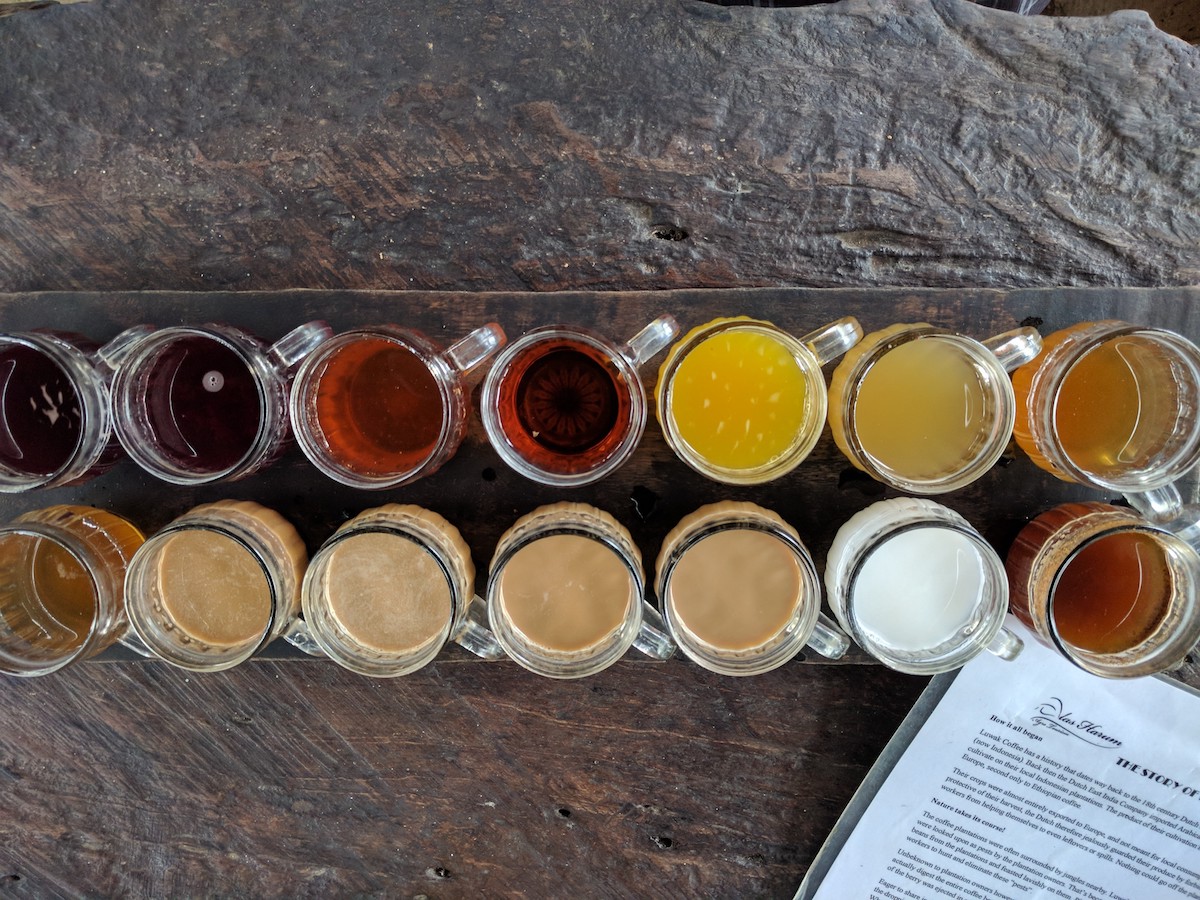 Mount Batur Viewpoint
A number of tourist-trap restaurants line the road that leads to Mount Batur, with a great view of the mountain and the lake at it's base. The food is generally edible but nothing special, overpriced and a bit bland to fit most tourists. The view is rather nice and worth a stop to enjoy for a bit.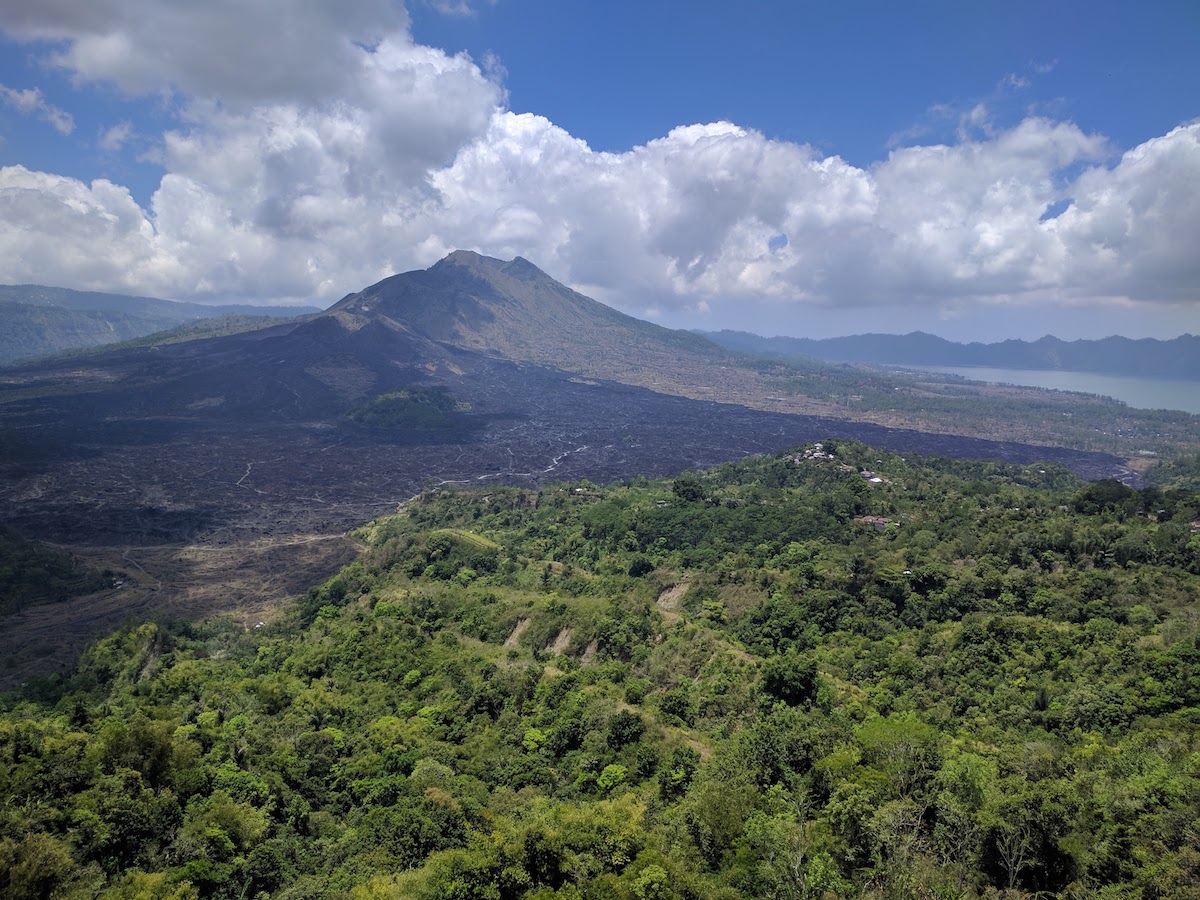 Taman Ayun
Popular temple although I'd only stop by if it were on the way to another destination, not worth a stop on its own.
The Blanco Renaissance Museum
This museum is worth a visit if you're into surreal art, although I liked it more for the grounds and building than the art itself.
Tegenungan Waterfall
So-so small waterfalls, better to skip and spend more time elsewhere.
Where to eat:
Babi Guling Gung Cung
Opens around 11AM, solid Babi Guling near the heart of Ubud town.